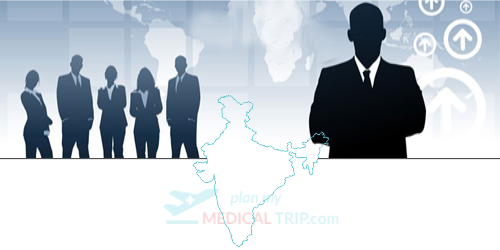 Medical Treatment in India
Medical Treatment in India for Foreigners
The medical tourism sector will grow from approximately USD 3 billion in 2014 to USD 6 billion by 2018.-Punjab Haryana Delhi Chamber of Commerce and Industry
The Indian medical tourism sector is experiencing continuous growth because of low cost of healthcare services, its position as a medical hub in South Asia, and mainly because of strong government support. The Indian government is taking promotion of its offerings in medical and tourism actively. The Ministry of Tourism has launched a new helpline, for now in 12 foreign languages, 1363 or 1800-111-363 to help foreign tourists and guide them after their arrival in India.
Another property under the name 'Atithi Devo Bhava' has been launched. This is to improve the local market's perception of tourists who come from abroad and to make their stay more comfortable. With this, the National Tourism Authority is coming up with the first national tourism plan for 14 years.
Why Foreigners are Choosing Medical Treatment in India
There are many reasons why India is the first choice for foreigners to undertake their medical treatment. We have listed few of the most important here.
Cost
There is no doubt that India is an inexpensive market when it comes to medical tourism. Surgeries are done at much less than half the cost. However, there is no compromise on the infrastructure or quality of doctors. This makes it a perfect destination to get treated. Also, the competitive costs in India are unmatched. Which means, almost no other country has provide such costs, impeccable infrastructure, and such a large-scale of hospitals and clinics at the same time.
Location
India is geographically placed almost in the centre of the world. This makes it very easy and affordable for foreigners to travel to. Also, good connectivity by air makes it comfortable for patients to travel. Most of India's main cities are well-connected to International destinations. India is also close to the Gulf region, which is said to be one of the unhealthiest regions in the world.
Good Supply of Doctors
India has some of the best doctors that cater to various categories. The numbers in which India produces doctors is also mindboggling. This means, that there is never a waiting period to get operated. Of course, the number of experienced doctors is also very high.
Alternative Therapy
India is a hub for people who seek alternative therapy such as yoga or ayurveda. A lot of surgeries require patients to rehabilitate before they travel. It is easier and cheaper to do so in a country like India. People from all over the world have been drawn to the mystical land of India for these therapies. The natural environment only improves the condition of the patient.
NRI Population
India has a very high NRI population. According to studies, these groups find it more comfortable to get treated in their home country. Cost of surgeries, however, remains the main reason. The countries they actually reside in, become grounds where foreigners can learn about surgeries in India on first-hand basis.
Due to these reasons the medical treatment available in India is unmatched. Shall you want to enquire more about the Indian medical market, feel free to contact us through info@planmymedicaltrip.com.