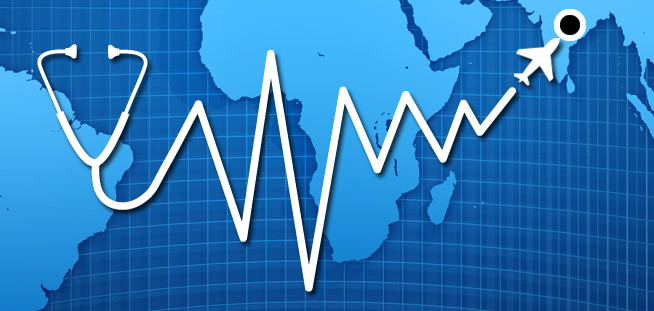 Medical Tourism in India
India has been the focus of Medical Tourism since a long time now. The reasons for this are many. For instance, India is an extremely cost-effective market. Surgeries in India sometimes cost one-tenth of what they would in western countries. Also, the waiting period in India is very less as compared to certain other countries. For example, if bulk demands are generated during the holiday season, India has the capacity to fulfill all those needs.
Second reason for this growth is India's geographical location. India almost lies in the center of the globe, making it easier for patients from all over the globe to travel only halfway across the globe at the max. Secondly, India's proximity to the Gulf region-which happens to be the unhealthiest region in the world-is also reason for more patients coming into the country.
Fourth reason for this growth is the number of doctors that pass out every year in India to join experienced doctors as trainees. Medical staff-be it nurses, trainees, or even admin-is available in India in bulk. This helps in shorter span of waiting for appointments, etc.
Fifth reason for this exponential growth is India's specialized strength in alternative therapy. Everyone around the world knows that India is famous for therapies such as yoga. This means that patients can get rehabilitated in India without having to spend a lot. Sometimes, patients aren't allowed to fly back after surgeries; this point adds more reason for patients to come down to a country like India.
Sixth reason why medical tourism in India is on the rise is because it hosts a high NRI (Non-Resident Indian) population. Studies say that people prefer getting treated in their own country than in a foreign country. India welcomes such NRIs every year. This group does not come under the government's statistics of medical tourists, as they don't come on a medical tourism visa. They find it increasingly comfortable-financially and emotionally-to seek treatment in their own country.
All the reasons mentioned above are leading reasons why medical tourism in India is increasing manifold. The growth of this industry is almost doubling; investors all over the world are taking dynamic interest in this segment.
Various destinations in the country, such as the states of Gujarat and Maharashtra are being developed to host better facilities and infrastructure, to cater to a higher number of tourists.
We must not forget that medical tourism in India isn't an alien concept. All the people who migrated abroad, whether as IT professionals to the US or as workers to the gulf, came home frequently for their medical needs. From this concept, that came out of nothing but natural instinct, was born the contemporary concept of medical tourism.